Reading is My Secret Power: St Patrick's celebrates Book Week!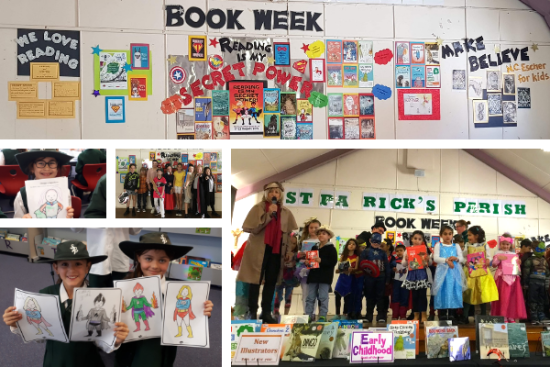 Caped crusaders, crazy costumes and colourful characters – it's been a jam-packed week of fun and creativity at St Patrick's this Book Week. With inspiration from this year's theme, 'Reading Is My Secret Power', we've enjoyed celebrating reading as a school community.
Each year, the Children's Book Council of Australia (CBCA)'s 'Children's Book Week' sees schools, libraries, booksellers, authors, illustrators and children around the nation celebrate Australian children's literature.
There's lively book character parades and performances, and a variety of book competitions and themed activities. Our librarians and teachers have created amazing Book Week displays and our talented students and their families have designed incredible costumes for the week's festivities!
Our wonderful book parade kicked off St Patrick's Book Week celebrations. The children had a "super" time at the book character parade, hosted by 'the Evil Queen'. Sherlock Holmes and Watson dropped by to investigate the source of all the laughing and cheering; the students enjoyed a superhero cake stall; and the school's resident celebrity, Paddy the Leprechaun, made a guest appearance too.
Our students also celebrated Book Week by each class reading and responding to the books shortlisted for the CBCA Book of the Year Awards. The children even received a free bookmark when they come to the library for borrowing during the week!

---