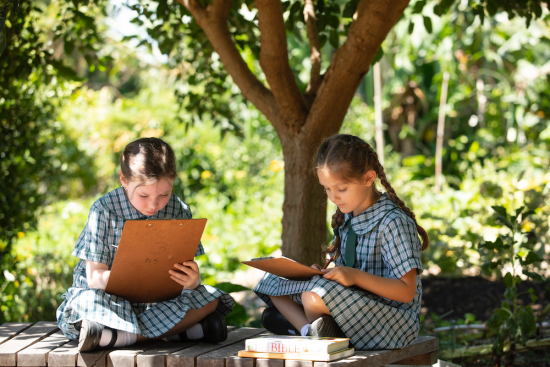 The Living Classroom at St Patrick's is a fully functioning permaculture garden located in the north-western corner of our school grounds. Each year, the girls and boys in Year 4 are 'garden ambassadors', where they spend three full days every term with our Religious Education Coordinator, Mr Sam Mattas, and our permaculture gardener, designer and teacher, Aaron Sorensen. They work together in the garden, learning about permaculture principles, building soil, planting trees, growing amazing produce and having fun in the sun – and occasionally the rain!
It is much more than simply a garden where we grow food. In many ways, it is an integral part of our school identity and one of a kind in the Diocese of Wollongong.
The garden also connects us to our local community. Produce is available for anyone to purchase for a donation on Market days. This donation is used to then purchase new seedlings to plant in the garden. Morning tea in the garden is also offered to parishioners and families alike at various times throughout the year. Pizza and scones made in the woodfire oven in our garden kitchen are always a big hit
Integral to the space is the three ethics of permaculture: 'Earth Care – People Care – Fair Share'. Through these ethics, children learn about how to look after the planet in a sustainable manner, how to care for one another and ultimately how to live a life of giving and sharing.
What do we have in the garden and what do we produce?
An endless variety of vegetables:

Our 4-season vegetable garden produces an abundance of seasonal veggies and herbs all year round



Over 30 fruit trees including:

Several banana trees
Citrus trees including oranges, limes, native finger limes, lemons, mandarins – and a couple of each!
Mango tree
Several macadamia trees
Mulberry tree (the show-off of the garden!)
Panama berry tree
Longan trees
Guava trees
Black sapote tree
... and many more!
Anyone and everyone is welcome to come in for a wander through the garden. We would love to show you around!


NUDE FOOD
At St Patrick's, we care about the environment and want to help keep it beautiful. In order to make our school more sustainable and minimise our environmental imprint, we are a Nude Food school. This means that the children are encouraged to bring to school lunches that are free from plastic waste.
Once a week, on any given day, Year 5 conduct a Nude Food audit. They collect data from each class to determine which class in the school is the most sustainable and produce the least amount of rubbish. The class that brings the most Nude Food in a term is rewarded. The Year 5 Nude Food Ambassadors dress up in fruit costumes, present at assembly and visit classes in order to engage and inspire the children in this endeavour.