Exploring Space for National Simultaneous Storytime
Our students at St Patrick's loved celebrating National Simultaneous Storytime and this year's book, 'Give Me Some Space' by Philip Bunting!
National Simultaneous Storytime (NSS) is held annually – every year a picture book, written and illustrated by an Australian author and illustrator, is read simultaneously in libraries, schools, pre-schools, childcare centres, family homes, bookshops and many other places around the country. It's a colourful, vibrant, fun event that aims to promote the value of reading and literacy among children.
A highlight of the day at St Patrick's was the children having the book, 'Give Me Some Space', read to them by an astronaut currently in space on the International Space Station! [pictured below]
Everyone enjoyed the reading and had some interesting space facts to share. The book is now available to borrow from our school library.
We also had a visit from our resident astronaut Luna (aka Mrs Bowater) who gave out space bookmarks to all the children.
With all the fun we've had this year, we're looking forward to next National Simultaneous Storytime already!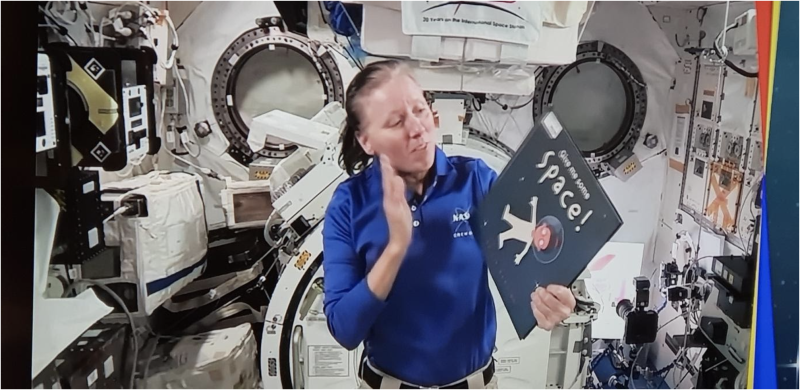 Read more about our Learning and Teaching at St Patrick's.