Chopped for Charity: Young Jade donates her hair to other children in need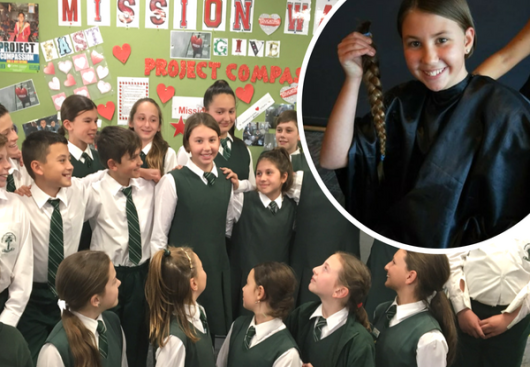 Like many young girls, our student Jade loves long hair. Last week, it went all the way down past her elbows! But the 11 year old has since cut all her long locks off for a very good cause - to donate it to other children who have lost their hair due to illness.
Jade decided to get the big chop for charity and send her hair to Variety - the Children's Charity's 'Hair with Heart' program.
The national initiative turns hair donations like Jade's into specialised wigs for children who have lost their hair because of a medical condition such as alopecia or due to undergoing chemotherapy - giving them more confidence and self-esteem so they can feel like themselves again.
Any funds raised through the sale of the wigs is then also used to provide equipment and services to give Aussie kids in need a fair go - so Jade's donation will help in multiple ways!
"I was motivated to do this as there is a family at our school experiencing difficulties. I learned that there are children who are undergoing cancer treatment and needing wigs, and I could also give money that would go to help these children.
"I spoke to mum and she supported me getting my hair cut as well as achieving my goal of raising $250."
Jade's parents, Natalie and Phil, said their daughter made the big decision to donate her hair after discussing with them what it would be like for a child to lose their hair if they were sick.
"We looked into what needed to be done and Jade fit the criteria with her long hair. We set a date and started the fundraising page," they said.
"My plait had to be 36½ cm long. Mine was 38cm," Jade added proudly.
Jade's hair faced the scissors on Sunday down at the Illawarra Yacht Club, in front of family and friends cheering her on in support. Her plait was posted off to Variety this week.
"We've been planning this for a couple of months because we had to contact 'Hair with Heart', fill in forms, then organise the hair cutting event. Lots of people came, including my family, friends, and families from our school. Even people who just happened to be at the club donated on the night," Jade said.
"On the day I said to myself, 'Today is the day!'. I was nervous, but excited as well."
Jade said she is happy with her new short cut, but it didn't compare with the happiness she was feeling for being able to help someone else in need.
"I feel I have done really well. I am excited to think I will make a boy or girl smile, wearing my hear as a wig" — Jade
The St Patrick's school community has supported Jade's fundraising efforts throughout the process, with many donating to her cause - including Principal, Anne Duggan. On behalf of St Patrick's, Mrs Duggan commended Jade on her efforts.
"At our school we have been experiencing 'mission' – looking at how we can experience God in the greatest and simplest of things. We have a 'mission wall' [pictured below] at our school, where parents, students and staff have the opportunity to add to the wall the names of students they see doing acts of selflessness, kindness and compassion for others," Mrs Duggan said.
"This week, we have experienced this in Jade, who has been motivated by a family in our community undergoing a very hard time. She has selflessly had her hair cut short, so that it can go towards making a wig for a child undergoing cancer treatment - plus has raised money for the cause.
"We are so proud of Jade in displaying 'mission'. She is a great role model for her class and our school" — Principal, Anne Duggan
Staff and parents from St Patrick's who know of Jade's kindness were also quick to praise her efforts.
"Jade is always polite and helpful around the school. She takes wonderful care of my son and the other Kindergarten kids, and always has positive energy. What a selfless act of donating her hair for wigs and raising money for sick children. She is an asset to our school," one Kindergarten parent said.
With her family, friends and school behind her, Jade's goal of $250 was quickly surpassed. The Year 6 student has now has raised over $2,500 for the cause.
"I would like to thank all who have and are supporting me. Thank you for your generosity. And to all who have donated, a big thank you!" she said.
"I hope I've inspired other children to donate. I'd like to encourage everyone to help people who are unwell in whatever way they can."
Variety – the Children's Charity NSW/ACT CEO, David Sexton says people like Jade make a big difference for Aussie kids.
"Variety doesn't receive any government funding, so every wig and every piece of equipment granted to families is thanks to the amazing efforts of people like Jade," said Mr Sexton.
"We can't thank her enough for her dedicated efforts to help us help Aussie kids."
If you would like to support Jade, you can donate to her fundraising page until the end of September at https://hairwithheart.everydayhero.com/au/jade-s-hair-raising-fund
---
Variety – the Children's Charity supports children and families who are facing challenges - be it through sickness, disadvantage or living with a disability. Their work provides financial support for wheelchairs, specialist equipment, therapy and medical supplies, as well as practical assistance, programs, experiences and care to help these children overcome obstacles and live life to the fullest.